Welcome Message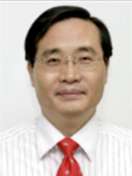 Young-Ki Paik
Chair, C-HPP Consortium
Dear Colleagues,
On behalf of Co-chairs, EC and Principal Investigator council members of the C-HPP Consortium, I welcome you to visit our website where you will find updates on the recent progress on the project, scientific activities of individual teams and scientific publications. This project was designed to integrate the proteome parts list into transcriptomic information in a genome-wide manner.
We have made many splendid progresses during the past years since our project has been launched in 2012 in Boston. This 10-year mission will only be accomplished with cohesive collaborations among the teams and those experts in omics biology, biomedical sciences and other inter-disciplinary fields. With such a new vision of scientific convergence, I trust everyone in our consortium shall have a commitment to bring a fresh idea as to how we going to make synergistic outputs by putting these individual chromosome initiatives together for the better biomedical research.
You are welcome to give us insightful inputs on the scientific mission, suggestions on the organization activities, any proposal on the collaborations while you look through this web site.
Thank you for your time to visit our home.
Young-Ki Paik, Ph.D.
Underwood Distinguished Professor
Director, Yonsei Proteome Research Center
Yonsei University, Seoul 120-749, Korea